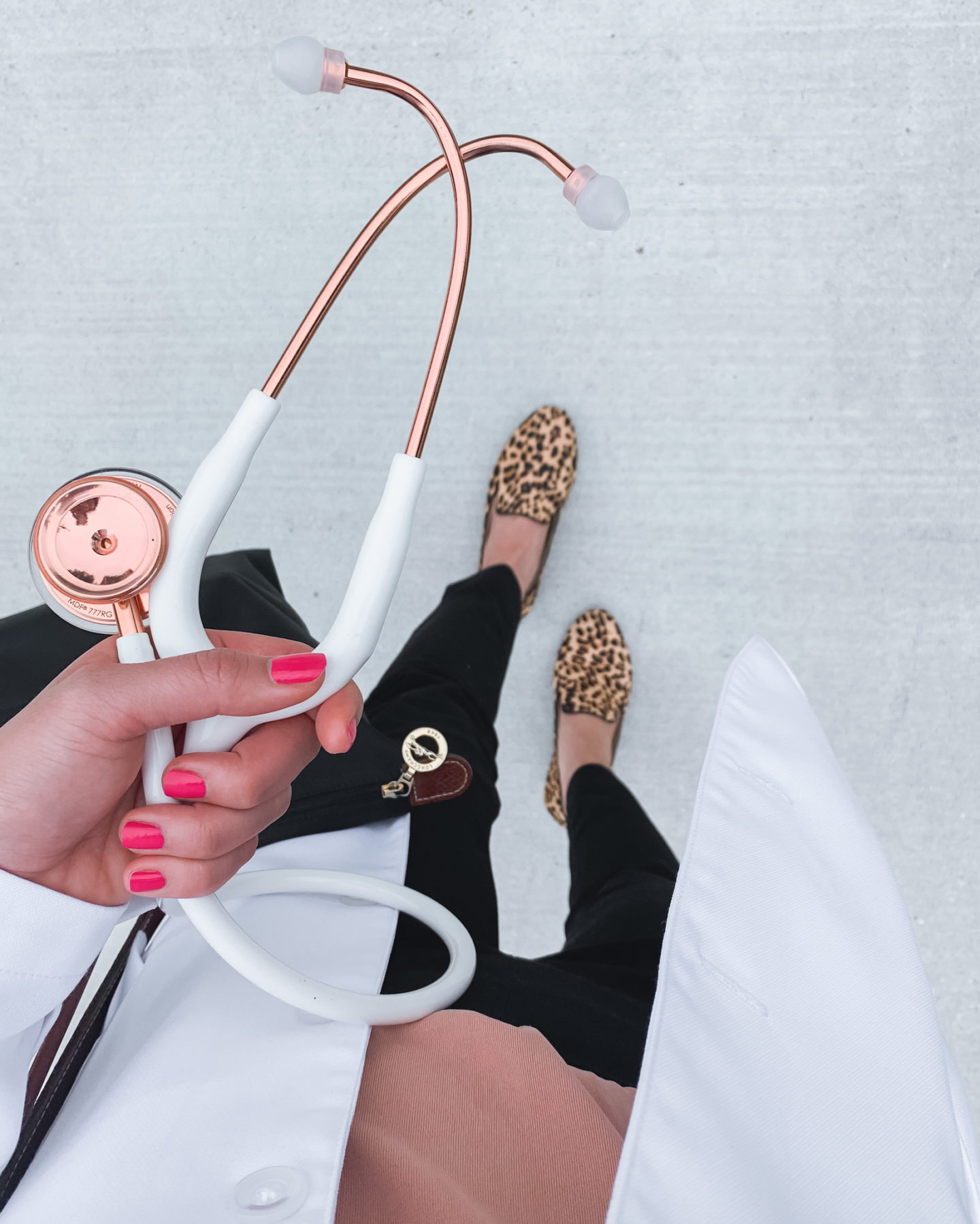 ---
Congratulations on getting into medical school!! I hope you're prepared for an exciting, tough, and enjoyable ride! In this post, I'll be sharing some of my must-have items for medical school!
---
1. Reliable laptop
This is the most important item! Since you will be spending hours studying and working on your laptop, be sure to invest in a reliable one! Throughout medical school, we are required to bring our laptops to some classes (especially interactive learning sessions). We also use them to take our exams. I personally purchased a new 13′ MacBook Pro at the beginning of medical school and absolutely love it!

2. Stethoscope
Your school may or may not give you a stethoscope (I got one at my white coat ceremony). If they do not, I recommend buying a Littmann Classic III. It's a great, inexpensive stethoscope that many medical students use. The rose gold MDF Instruments stethoscope is an absolutely beautiful stethoscope! It is a bit heavier than the Littmann but still works well!

3. Spacious Desk
You'll be spending a lot of time studying so it's important you create an inviting study space. Here are some of my favorite, affordable desks!

4. Ergonomic chair
Again, you'll be spending hundreds of hours studying on your chair. To prevent back pain, invest in a good one! Here are the ones I have and love!

5. Good pens and highlighters

6. Professional attire
This is a no brainer. Start building your professional attire now. For women, have a few good blouses and comfortable pants. For men, pants and button-up shirts are the standard. Check out my blog post on where I like to shop for my professional clothes. For now, here are some of my favorites!

7. Scrubs
There will be many instances in which scrubs will be necessary during your first year. My classmates and I were required to wear scrubs for the anatomy lab, shadowing, and working in the student-run clinics. While you could spend money on nice scrubs, I recommend starting off with a pair of cheaper scrubs (especially for anatomy where they will reek of formaldehyde after lab). My school also requires us to wear hospital-issued scrubs in certain settings like the operating room. Some students will just use hospital scrubs throughout medical school, so again there is no need to invest in expensive ones!

8. Laptop and book stands

9. Desk organizations

10. Reliable backpack or bookbag

---
Happy shopping!
---