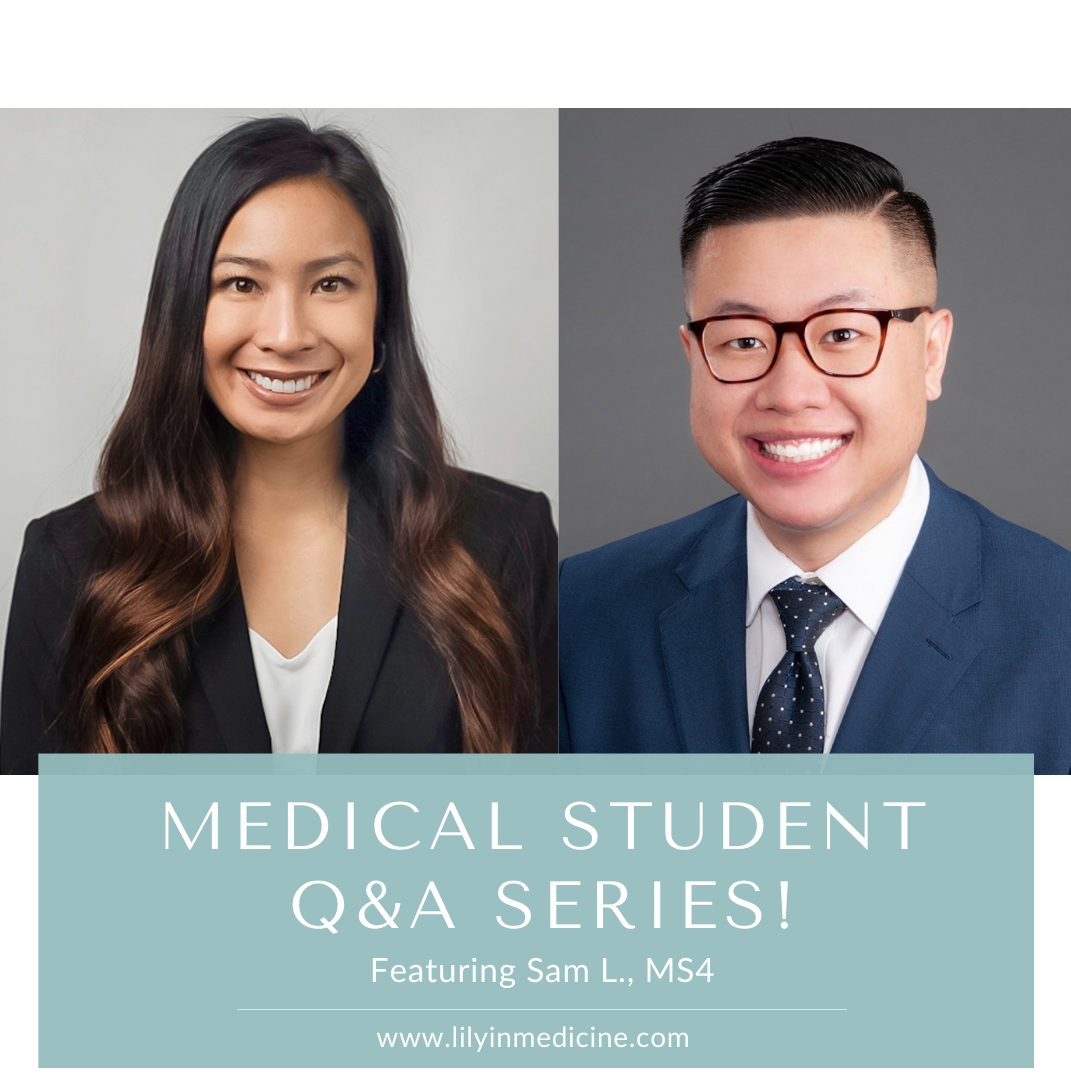 ---
Sam is a Hmong-American fourth-year medical student at Wake Forest School of Medicine. He is originally from Fresno, CA, and attended Brigham Young University where he received his degree in Neuroscience. He is currently applying to residency in Plastic & Reconstructive Surgery. In his free time, he loves to play basketball, go fishing, and spend time with his baby boy!
---
1. Can you tell us about your pre-med route? What brought you to medicine? Were you a traditional or non-traditional applicant?
I don't have any family members in healthcare but I grew up with great admiration for my pediatrician and always thought it would be awesome to become a doctor to help others. However, as I entered college I didn't seriously consider medicine as a career because I was afraid of the training years it would require and I hadn't had significant exposure to the field at that point.

I decided to major in Neuroscience because I loved my high school science courses and thought it would be amazing to learn more about the brain. I loved my major and as I took other courses like anatomy and physiology, my fascination with the human body grew. The Neuroscience major at my school had historically been a springboard for students into medical and dental school, so I decided to get some exposure to medicine to see if it was something I'd truly consider as a profession. After shadowing and volunteering in medical settings, I felt like medicine was right for me and decided to go all in! No regrets so far lol.

I would consider myself a traditional applicant. However, I took a total of 3 years off – two during college for personal reasons and a gap year following graduation.
2. How many medical schools did you apply to and how did you choose them?
I sent primary applications to 26 schools (25 MD, 1 DO), but I only finished 21 secondary applications because, to be honest, I was burnt out with writing secondary essays and was not feeling it for those last 5 schools. I applied to all of my home state programs and then focused on out-of-state private schools because I knew my chances were slim at out-of-state public schools.
3. What did you do during your gap year?
I took one gap year and loved it! I had three main reasons for taking a gap year. First, I decided relatively late in college to pursue medical school and I wasn't ready to take the MCAT and apply after my junior year of college. Second, I was burnt out from school and wanted a break before medical school. Third, I wanted to gain some experience in the medical field before medical school.

Fortunately, I very lucky during my gap year was able to accomplish all three! I stumbled upon a call center job where I became a licensed health insurance agent in all 50 states and sold Medicare Advantage plans for Aetna. This was a great experience because I learned the ins and outs of how medical insurance works from the insurance company's perspective.

Then one Friday afternoon, I shadowed a young urologist who had just started his own private practice out of residency. He hired pre-med/pre-nursing students to run his office (crazy, I know) and they were having some insurance issues that day. With my new experience in insurance, I was able to help them out. It turned out that his current office manager was leaving for medical school and needed a new one and offered me the job on the spot! I accepted and started the 3 days later and become the Vice President of Operations and Office Manager of the urology practice. It was a fantastic experience learning about the business and non-clinical aspects of running a practice.
4. You're a new father!! Congrats! Have you had any big challenges in managing family life with medical school?
Being a dad is amazing! I was married before medical school (still am haha) so I was definitely worried about work-life balance during school. I am lucky to have such a supportive wife. It was tough at the beginning because I was studying so much, but we learned it was important to set expectations.

This is what we decided on and it worked well for us: I would study pretty much all day every day during the week and then not study on the weekends. The weekends became time for just my wife and I. We just had a baby boy in September and he definitely keeps us busy!

Fortunately, he cooperated and came at the perfect time of my 4th year after I had completed all of my AIs and time-intensive rotations. My 4th year schedule is pretty chill from here on out and I am grateful that residency interviews are virtual this year, allowing me to spend time with my little family.
---
"So much of my time was spent studying and I was fortunate to do well, but I think I may have missed out on opportunities to create meaningful relationships with more people and give back to the community. "

Sam
---
5. What made you interested in Plastic Surgery?
I actually came into medical school saying that the ONE specialty I 100% ABSOLUTELY DID NOT want to pursue was Plastic Surgery but here I am! My only exposure to it prior to med school was through TV and media and thought there were more "noble" specialties out there. Boy, was I wrong!

Early in medical school, lured by the promise of free food, I attended a lunch talk presentation about the field of Plastic Surgery and I was blown away by the breadth of the field! I had no idea how broad it was, how much amazing reconstructive work they did, and how important aesthetic training is. I immediately reached out to the presenting surgeon to shadow him and on my first day in the OR, we literally did head-to-toe reconstructive work on several patients. I was captivated by the variety of procedures I saw that day and was impressed by the command of anatomy, creativity, and technical skill necessary to practice the art of Plastic Surgery.

Through my clinical rotations, I found that I liked working with patients of all ages, all genders, and loved the prospect of developing life-long relationships with patients and their families (this is especially true in pediatric Plastic Surgery, which is what I am currently interested in). I also loved the mechanical and anatomic nature of surgery and wanted to operate from head-to-toe. Plastic Surgery allowed for all of this in one specialty and I couldn't be happier with my specialty choice!
6. What tips do you have for medical students who are deciding on a specialty?
You are giving up the prime of your life for medical school and residency. At the end of it, you want to be practicing in a specialty that you truly passionate about. To be quite honest, I was very close to choosing Radiology because of the fantastic lifestyle it would provide, but I just wasn't as passionate about it and knew I would be unhappy in the future if didn't choose Plastic Surgery. You've come an awfully long way to end up in one specific field so it might as well be a field you love.
7. How did you get involved in research in medical school?
I was fortunate to have a fantastic mentor in medical school who was actively involved in research. I knew for Plastic Surgery research was important for residency applications so I was able to start some research after my first year of medical school. For those who want to do research but are unsure of where to start, the faculty pages on the school websites often list faculty research interests. If you find someone who you share interests with, reach out to them. I've found that faculty are often very excited to have medical students who are eager to do research with them.
8. What are your top tips for doing well on clinical rotations?
Overall, just be professional – be on time, be respectful, be a team player, do what's expected of you. If you aren't interested in the specialty you're rotating in, at least act interested. For shelf exams, identify a few key resources and stick to those. Leave when the residents dismiss you.
9. What is something you'd tell your younger medical student self?
I'd probably tell my younger self to study less and enjoy the medical school journey more. So much of my time was spent studying and I was fortunate to do well, but I think I may have missed out on opportunities to create meaningful relationships with more people and give back to the community.
---
I hope you enjoyed the interview! Let us know if you have any questions by leaving a comment below!
---